Our R&D capability is spread to various field, but it can only be valued when assembled in customers products.
Today, we are especially emphasizing informative precision instruments field.
The market for informative precision instruments are exceeded to smaller, thinner and lighter
which means the machine parts including rubber parts are required to be smaller and precised.
We respond to our customer's high requirement with our technical experience.
We deliver high quality and satisfied products produced by full production equipments, experienced R & D, expert staffs punctually.
O-RINGS
Features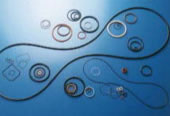 Strict quality control using an automated moulding machine provides flexible output planning, high standard quality and minimal cost.
They are manufactured with accurate and minimal measurement. They are available with the following minimum tolerance.
Inside diameter: ±0.03mm Cross section: ±0.02mm
Main Applications
Waterproof (for wrist watches, water fittings, shower-heads)
Gas-resistance fittings (for cigarette lighters, stoves, hot-water heaters)
General industrial instruments (for hydraulic and pneumatic equipment, belts, compressors, batteries)
Main Materials
ACM, CR, EPDM, FKM, NBR, SI
Other general synthetic rubbers (other materials are available to meet special requirements from customers.)
Specification
JIS-B 2401
SAE (Society of Automotive Engineers)
EN (European Standard)
INFORMATIVE PRECISION INSTRUMENTS
Features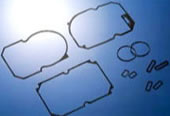 They are developed for computer use. Rubber materials considering low emission gases are used and they can be manufactured in complicated shapes by automated production.
Main Applications
Built-in parts e.g. crush stop gaskets for hard disks.
Main Materials
IIR, EPDM, FKM
Delta Rubber Series
1. Delta KB
This multipurpose IIR is designed to improve CR, SIL for penetrate-proof gas.
2. Delta KE
Adhesive tapeless individual rubber parts.
Material is designed to minimize the price, free from sulfide. chloride. odor. And also minimize the value of out gassing.
3. Delta KF
FKM based special compounded material designed to minimize outgas and long life high performance material.
CUSTOM MOULDINGS
Features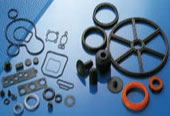 They have high accuracy and can be manufactured in small-sizes, as well as large parts.
Custom mouldings are available from Φ0.2mm - Φ500mm in diameter.
They can be manufactured to meet strict measurement and accuracy.
Main Applications
Pneumatic control equipment parts
Automotive parts
Water fitting parts
Electronic equipment parts including computers
Main Materials
CR, EPDM, FKM, NBR, SI
Other general synthetic rubbers (Other materials are available to meet special requirements from customers).
DIAPHRAGM
Features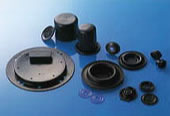 Diaphragms are available to be manufactured from the thickness of 0.2mm.
High accuracy diaphragms can be manufactured.
Materials to remove foreign bodies can be used under processing of the feeder-ruder (strainer).
Main Applications
Gas equipment
Automotive
Medical oxygen masks
Related water pumps
Main Materials
EPDM, FKM, IR, NR, SI
VIBRATION INSULATOR RUBBER PRODUCTS
Features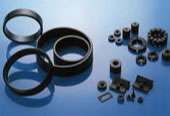 Strict quality control ensures the products to have stable characteristics.
Small-sizes and/or high precision products are available.
Main Applications
Automotive equipment
Office automation equipment
General industrial equipment
Main Materials
EPDM, IIR, NBR, NR, URETHANE, POLYNORBORNENE, ETHYLENE/ACRYLIC ELASTOMER